Global Marketing Monitor: Weekly Market Trends (July 10, 2021)
WHAT YOU'LL READ ABOUT THIS WEEK:
Many new companies who are also large marketers have become publicly traded or indicated plans to do so. Their disclosures show that these companies typically allocate substantially greater shares of their revenues to advertising than more mature companies.
Separately, with the U.S. Upfront TV marketplace winding down, we look at historical data showing the limited relationship between spending committed when the Upfront marketplaces are negotiated and the revenues that networks ultimately generate.
—
The first half of 2021 ended with a significant volume of IPOs which were highly relevant to marketers.  While many would have focused their attention on advertising technology companies, such as Integral Ad Sciences which listed at the end of June, arguably a bigger story for the industry relates to the massive levels of spending on advertising by other companies – some well known and some less so.
Among the companies listed or filed to become public since December of last year, which provided detailed information in their prospectuses, we can identify at least a dozen companies that have incurred more than $100 million either last year or in 2019.  Three among this group filed to become public or started trading at the end of June – Didi Chuxing, Legalzoom, and Robinhood.  This group followed Airbnb, Applovin, Bumble, Doordash, Kuaishou, Poshmark, Playtika, Skillz, Squarespace, and Wish.
On the one hand, it is unsurprising to see rapid growth from newly public companies: typically it is the fastest-growing private companies that become public ones.  Towards those ends, median company growth in ad expense during 20202 was 28.8%, similar to the 30.9% increase in revenue these companies posted.  On the other hand, the stand-out data point is that among this group, the median company allocated 26.8% of revenue to advertising expenses last year, with a range of between 3.6% and 103% (meaning more money went to advertising than was generated in revenue).
These levels are substantially higher than comparable figures for more mature companies.  In support of this point, we have established an experimental data set covering thousands of companies based on data aggregated by Refinitiv paired with our own modeled estimates. While CPG, Leisure, and Luxury are among the most advertising-intensive categories, none come close to the levels set by the newly public companies.   Overall we can see that the typical company among this group allocates only 2.4% of revenue to advertising.


Source: GroupM estimates based on aggregations of data from Refinitiv
Some of the newly public companies may eventually spend smaller shares of their revenue on advertising as they establish their brands and mature as companies.  On the other hand, it's also more likely that most of this group will sustain current levels of spending, as such levels are likely ingrained in their business models.   To the extent that there are scores – or even hundreds – of other relatively new large companies which are presently private and which currently spend on advertising at similar levels, the emergence of so many in recent years helps explain one of the key factors driving the heightened levels of growth the advertising economy is experiencing at present, especially in the US, China and the UK.
---
As the US television upfront market for 2021-2022 winds down, it's worth contextualizing some of the headlines with broader industry figures for the US and around the world.  Historically, the relationship between upfront activity and full-year actual revenues do not match up very closely.
While public disclosures of actual upfront volumes and pricing and network revenues are rarely provided by the networks, this wasn't always the case: between 1989 and 2005, each of ABC, CBS and NBC collectively provided pooled data with quarterly daypart-level revenue data through a trade group, BCFM (now the Media Financial Management Association). Upfront activity was never public, per se, but the trade press generally captured information and published a significant volume of detail.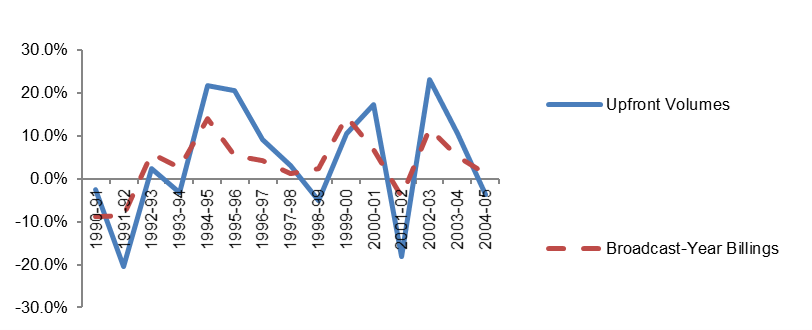 Source: BCFM, Trade press reports
The gaps between growth in commitments made during the upfronts and actual revenues recorded during the same period can be explained by several factors.  These include the changing mix of upfront and scatter buys, a wide range of absolute prices paid by advertisers with different cost bases, "slippage" (or the money that gets committed in the upfront but which doesn't materialize when contracts are signed), option exercises and make-goods.
All of this is to note that upfront-related news should not typically cause one to change expectations related to the actual revenues a media owner will ultimately realize.  As such, our forecasts remain unchanged with 9% growth in national TV ad revenue during calendar 2021 and stable revenues during calendar 2022.   Regardless of these numbers – which attempt to capture what marketers will do and what media owners will experience, rather than what either of them should do – an accelerated pace of change is ahead for the industry in the US and around the world, as the consequences of increased consumption of ad-free streaming services affect the industry which grows with every passing year.
It remains unlikely that advertising will play as big a role within the streaming universe as it does in linear TV in most parts of the world.  Ad-free offerings including Netflix, Amazon Prime, Apple TV+ and Disney+ are collectively dominant within streaming media.   While other premium services will include some volume of advertising in their revenue mixes, they will be constrained by the fact that the leading providers of streaming content are ad-free.  That doesn't rule out an opportunity for advertising and fully ad-supported services, of course, as we see with Pluto and Tubi in the U.S. or Pluto, Rakuten, Samsung and others elsewhere.
Consequently, advertising spending associated with streaming services will likely be underweight relative to the time consumers are likely to spend with this content.  That's one of the factors behind our forecast for Connected TV+ which we expect will account for 18% of global television advertising and 26% of US television advertising in 2026, up from 10% and 14%, respectively, in 2021.