Global Marketing Monitor: Weekly Market Trends (May 08, 2021)
WHAT YOU'LL READ ABOUT THIS WEEK:
Global packaged goods companies sustained solid growth during the first quarter of 2021, rising 4.5% organically. Like other companies in other industries, all of them are facing input cost inflation to a meaningful degree and are likely to raise prices for consumers. But, as the CEO of Kellogg's reminded everyone on their earnings call this week, marketers can earn price increases by building stronger brands.
Television advertising has been one of the most important vehicles used to build brands; however, change is occurring rapidly, as illustrated by this week's results from Roku and other data related to declining conventional pay-TV subscriptions. Whatever vehicles marketers choose to use, what matters is that they continue to invest in their brands to better position themselves to earn the price increases they will increasingly need.
—– 
 Virtually all packaged goods companies have now reported their first quarter 2021 results, and input cost inflation remains a key trend.   Costs will inevitably be passed along to consumers as the year progresses.   Addressing how to deal with this phenomenon, on its earnings call this week Kellogg's CEO said "we have to earn that price in the marketplace through investing in our brands (and) through innovating."  It may seem paradoxical to suggest incurring more cost in order to offset other costs, and yet it certainly can work.  In an article from Kantar published last year titled "Why pricing power is a brand's greatest asset", they stated "to justify paying more for a brand people must feel that they are getting something from buying that brand that they cannot get elsewhere. In other words, they have to perceive it as different in some way…Brands that command a higher price point in their category are typically seen as meaningful and different."   While the primary drivers of growth for advertising this year and beyond are smaller businesses, app developers and others who will not have particularly strong brands in the conventional sense, for larger traditional marketers to invest more heavily in their brands to justify the higher prices they plan to seek would be a source of upside growth for the media industry. 
In addition to Kellogg's, we have compiled results from the largest publicly listed packaged goods segments at Nestle, P&G, Unilever, Pepsico, Coca-Cola, L'Oreal, Mondelez, Kraft Heinz, Danone, Reckitt, Colgate, General Mills, Kimberly-Clark, J&J, Henkel, Hershey and Clorox.  On a combined basis, this group of global packaged goods companies grew 4.5% on an organic basis during the first quarter of 2021.  This followed on what was a relatively strong 2020, all things considered, of 3.6% organic growth. The growth rate was also notable as the sector faced relatively difficult comparables against the early phases of the pandemic last year, which led to a similar 4.6% growth rate in 1Q20).   North American growth was only slightly softer vs. other markets, but then the year-ago period was slightly stronger in North America vs. the rest of the world last year.  On a two-year basis, growth rates were similar. 
Looking at individual groups of business segments by their core products, food businesses grew organically by 5.2% in 1Q21, ahead of the 4.0% growth rate posted in each of the full year 2020 and 1Q20.   Beverages were still relatively soft and were close to flat, similar to what we saw in the fourth quarter, but well ahead of the year's average.   Out-of-home consumption serves as a significant drag for these companies.  Petcare was up 8.9%, sustaining the rapid growth we have seen for an extended period of time (above mid-single digits since the beginning of 2019).  Personal care businesses were also relatively soft, growing by 1.1%, or below the pace of growth observed in the fourth quarter and full-year 2020 levels both because of pantry loading during the first quarter of 2020 but also because consumers are still not consuming all personal care products as they used to.  Despite similar pantry loading trends for home care products, growth is still elevated at high single-digit levels, with a gain of 8.0% on our calculations.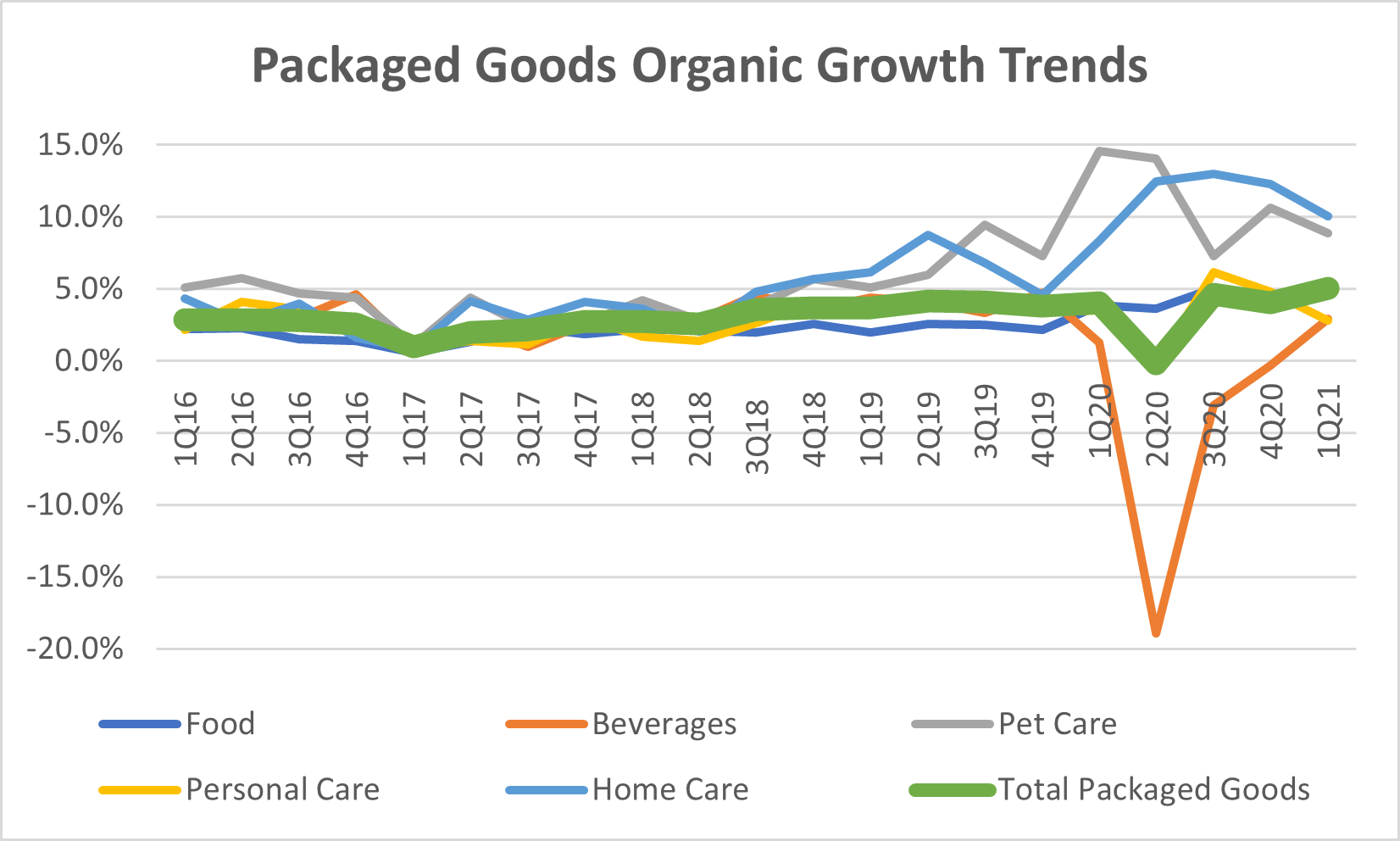 Source: GroupM, company reports 
Includes packaged goods businesses owned by Nestle, P&G, Unilever, Pepsico, Coca-Cola, L'Oreal, Mondelez, Kraft Heinz, Danone, Reckitt, Colgate, General Mills, Kimberly-Clark 
Unsurprisingly, e-commerce continues to grow rapidly: a subset of companies among this group that disclosed e-commerce growth or share of revenue attributable to e-commerce indicates that growth was around 48% in the first quarter, only slightly slower than full-year 2020's 55% pace of expansion.  E-commerce now accounts for around 14% of total revenue, up from 10% in the year-ago quarter and 8% in the calendar year 2019.  Of course, some segments remain relatively less dependent than others, as food-centric marketers generally have been able to rely on retailers staying open over the course of the past years, while others whose goods primarily sold through "non-essential" channels were more dependent on investing in direct-to-consumer or other e-commerce based sales channels. 
The week was also punctuated by reporting from Roku, which posted its results for the quarter as well. Roku's results showed 35% more active accounts and 49% more time spent on the platform, which in total resulted in 18.3 billion hours of streaming content (vs. 12.3 billion in the year-ago quarter).   Per account, we can calculate a 9% increase in streaming hours year-over-year. 
For reference, total TV consumption in the US amounted to 102 billion household viewing hours in the most recent quarter, with 22.4 billion hours originating from internet-connected devices according to Nielsen.    Year-over-year household growth in internet-connected device-based consumption amounted to 15% because of the very difficult comparable with last year's first quarter. 
We are mindful that Roku has a relatively small but growing international presence which will account for a share of the 18.3 billion hours. The company claims that now more than one in three smart TVs sold in Canada feature Roku and that it has the #2 operating system for Smart TVs sold in Mexico.  = 
Growth in Roku accounts coincides with (and probably partially contributes to) the decline in pay-TV subscriptions as well.  On our calculations, during the first quarter of 2021, traditional satellite and cable services and incremental vMVPD (virtual MVPDs, or internet-based pay-TV distributors) households tracked by Nielsen declined by approximately 4% on a combined basis during this period.  This compares with a decline that ran below 4% in each quarter of 2020.   In total, Nielsen estimates that there are now 87 million households, or 72% of the country's total with pay-TV services now.  12% of total households (a subset of the 72% figure) are solely served by vMVPDs, well below the historic peaks exceeding 90% as recently as 2013.   Similar trends are occurring in many other markets around the world, albeit from lower levels of peak pay-TV penetration: this past week Liberty Global also reported results, and while pay-TV is growing in some newer markets, such as Poland, it is declining in other more valuable ones, such as the UK where Roku, among others, are investing for their future growth. 
All of these overlapping trends contribute to the increased availability of addressable and connected TV inventory, but also to the increased scarcity of traditional linear television inventory.   Inflationary conditions for like-for-like units of inventory inevitably will follow.  Fortunately for marketers and media owners, television remains a medium that is a key contributor to brand-building efforts, although its ongoing erosion means that marketers need to continually invest in finding ways to build their brands without relying as much on television in the future as they did in the past.  Whatever vehicles marketers choose to use, what matters is that they continue to invest in their brands so that they can be better positioned to earn the prices they plan to seek from consumers in the years ahead.