Advertising's Role in Supporting Responsible Journalism
Over the past two decades, the proliferation of digital platforms and the rise of "citizen journalism" has intensified the spread of misinformation, incendiary content, and fake news. It has also fostered new habits where audiences are predisposed to consuming free content or paying as little as possible for access to media services.
Cumulatively, these trends create a problem for "responsible journalism" which must find a sustainable business model to maintain operations, while performing its primary function of informing the public. This problem is nowhere more acute than for newspapers. Traditionally, newspapers have largely relied on models that combine reader subscriptions and advertising. However, heightened competition from digital platforms — particularly social media — continues to exert pressure both on subscriptions and advertising revenues.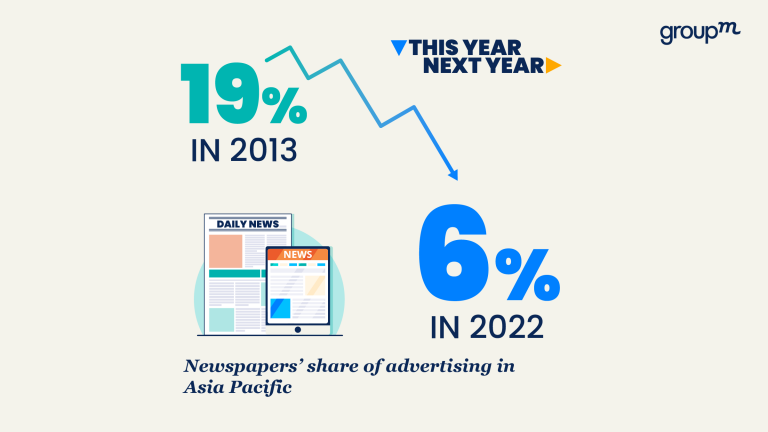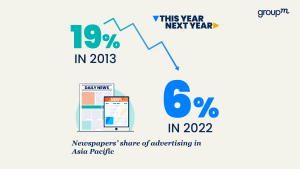 According to GroupM's This Year Next Year Global Advertising Forecast, newspapers' (including their digital extensions) share of advertising in Asia Pacific has declined from 16% in 2013 to 3% in 2022. To ensure newspapers' viability, the advertising industry can be the emissary that helps sustain overall operations, facilitate the crucial role of responsible journalism in society, and enable brands to take advantage of the myriad of benefits that news brings.
Through GroupM's Consumer Eye research, and in the charts outlined below, we demonstrate the importance of news media, the scale of the issues it faces, and outline some specific actions GroupM is taking to support the news industry.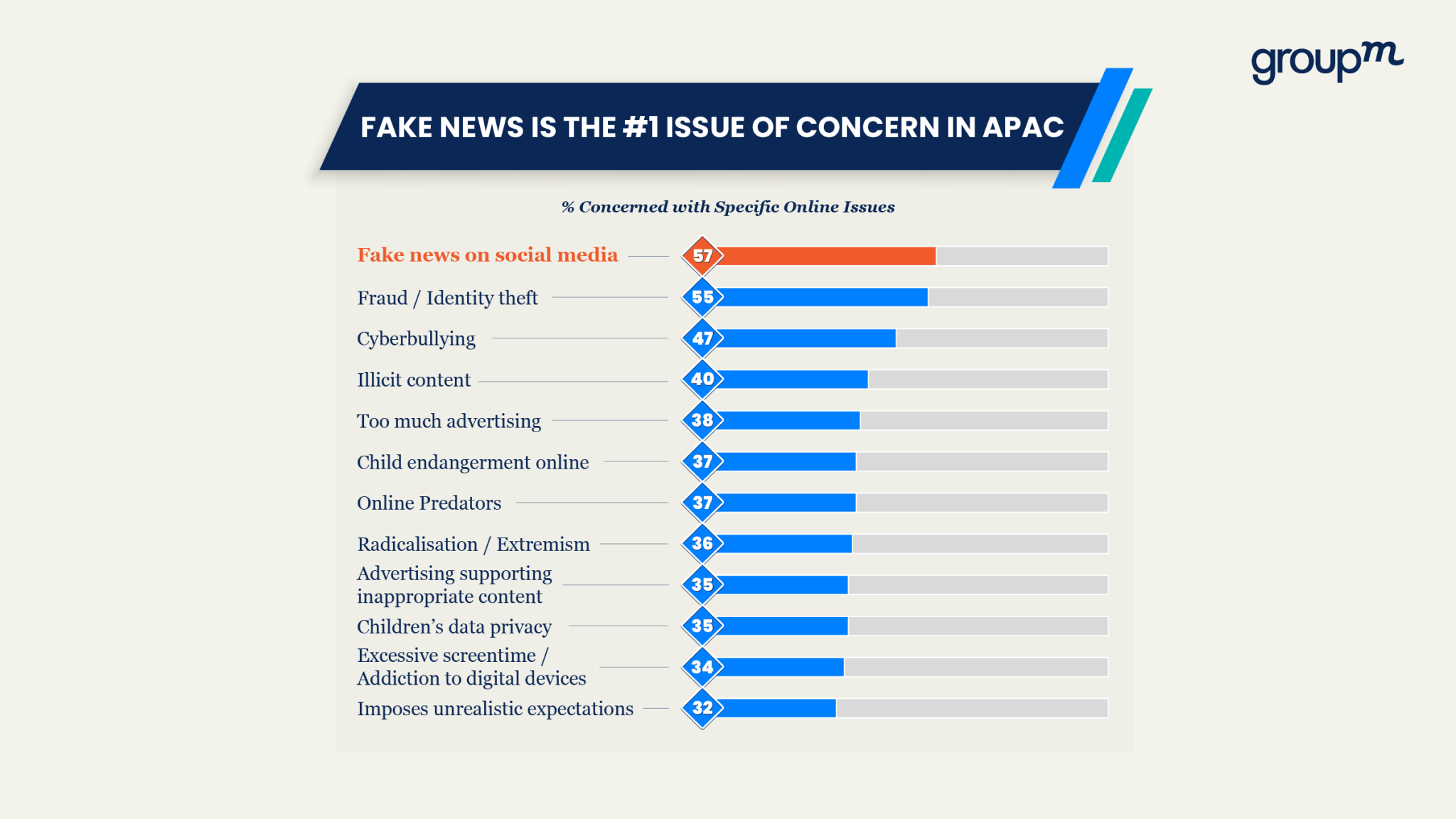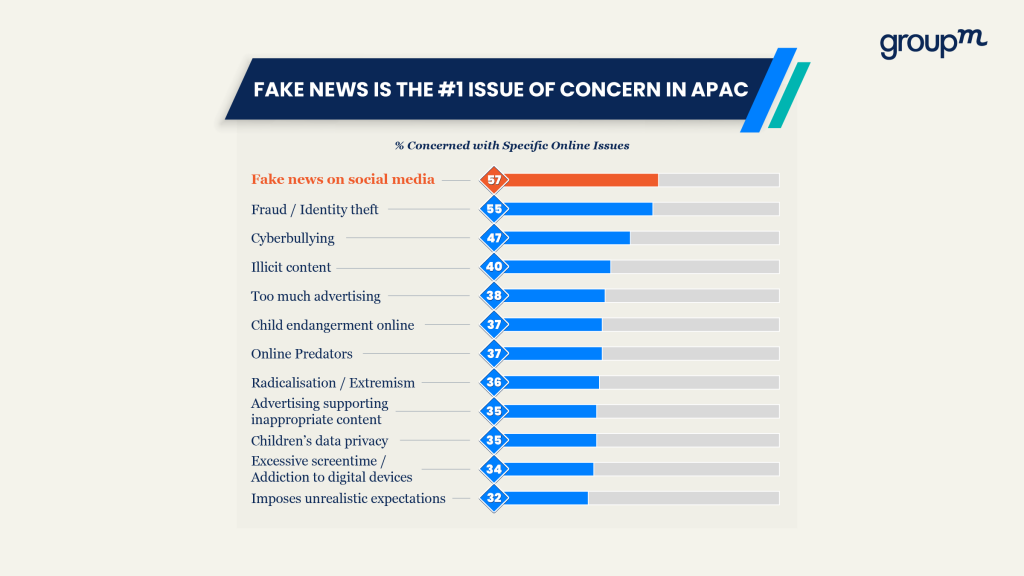 For more than half (57%) of APAC consumers, "fake news on social media" is a concern. More are concerned about fake news than any other issue related to the online environment.
While social media platforms continue to take meaningful steps to curb the spread of fake news, GroupM is leveraging its scale as the world's largest ad spender — it manages the media buy for 80% of the biggest advertisers — to create a better media ecosystem. Through its Responsible Investment Framework, GroupM is championing a collaborative industry approach to better protect everyone online and challenge the spread of disinformation.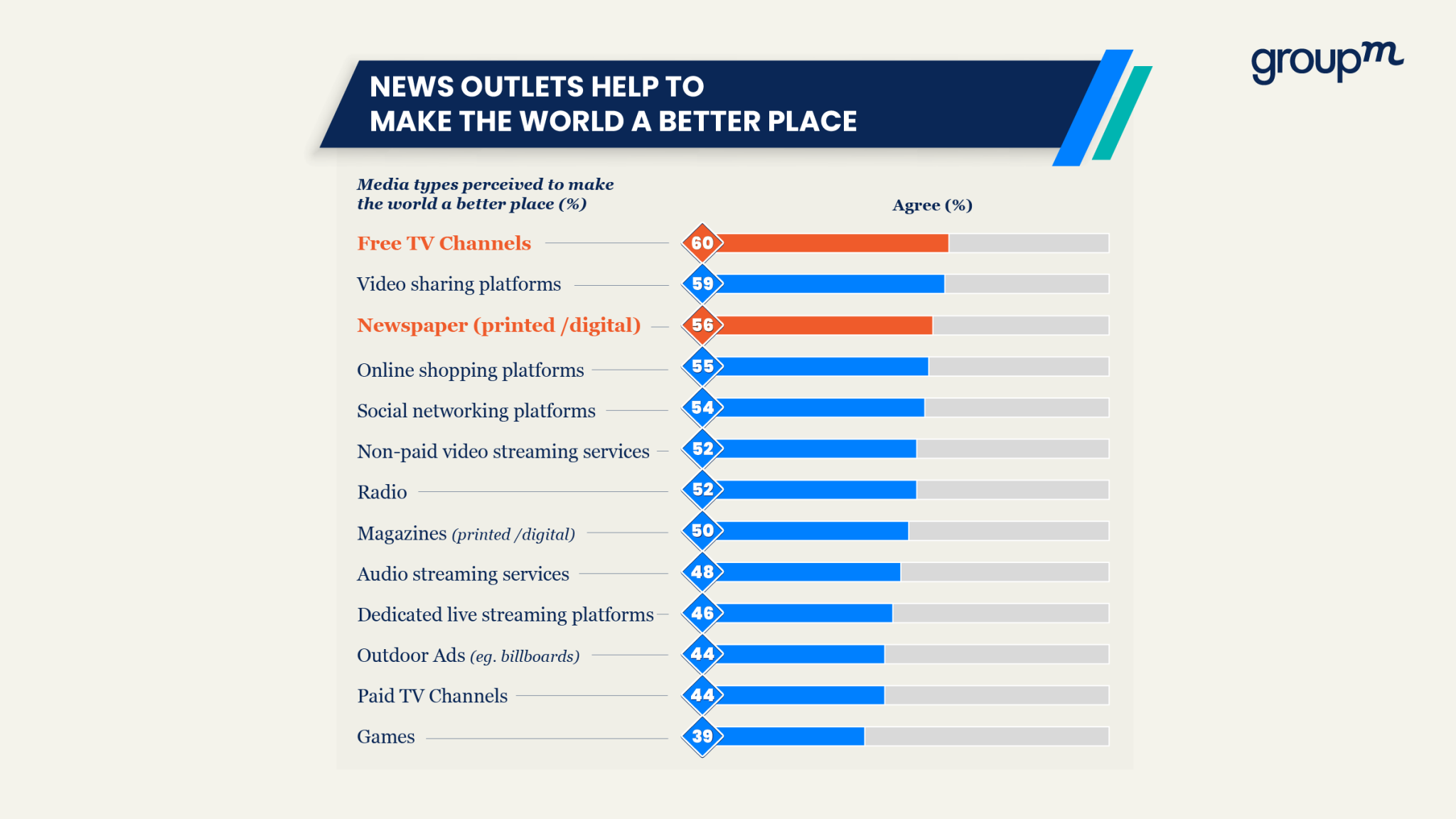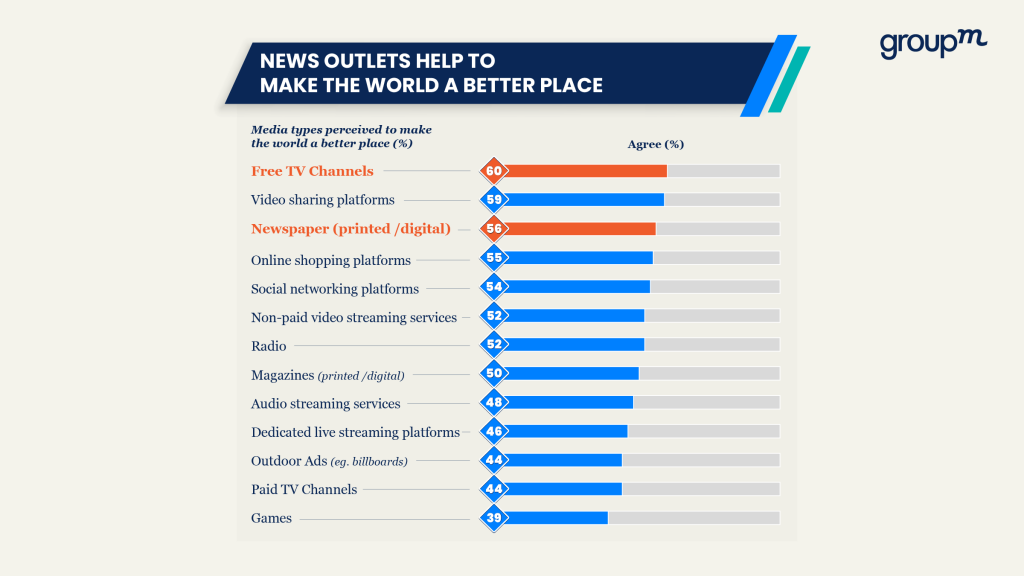 Free TV channels and newspapers — both of which are crucial to providing responsible journalism — are two of the top three platforms that consumers view as making the world a better place. In our previous issue, Advertising on TV: Flagging or Flourishing, consumers acclaimed TV's role in impacting society positively, while this issue also highlights the similar merit of newspapers.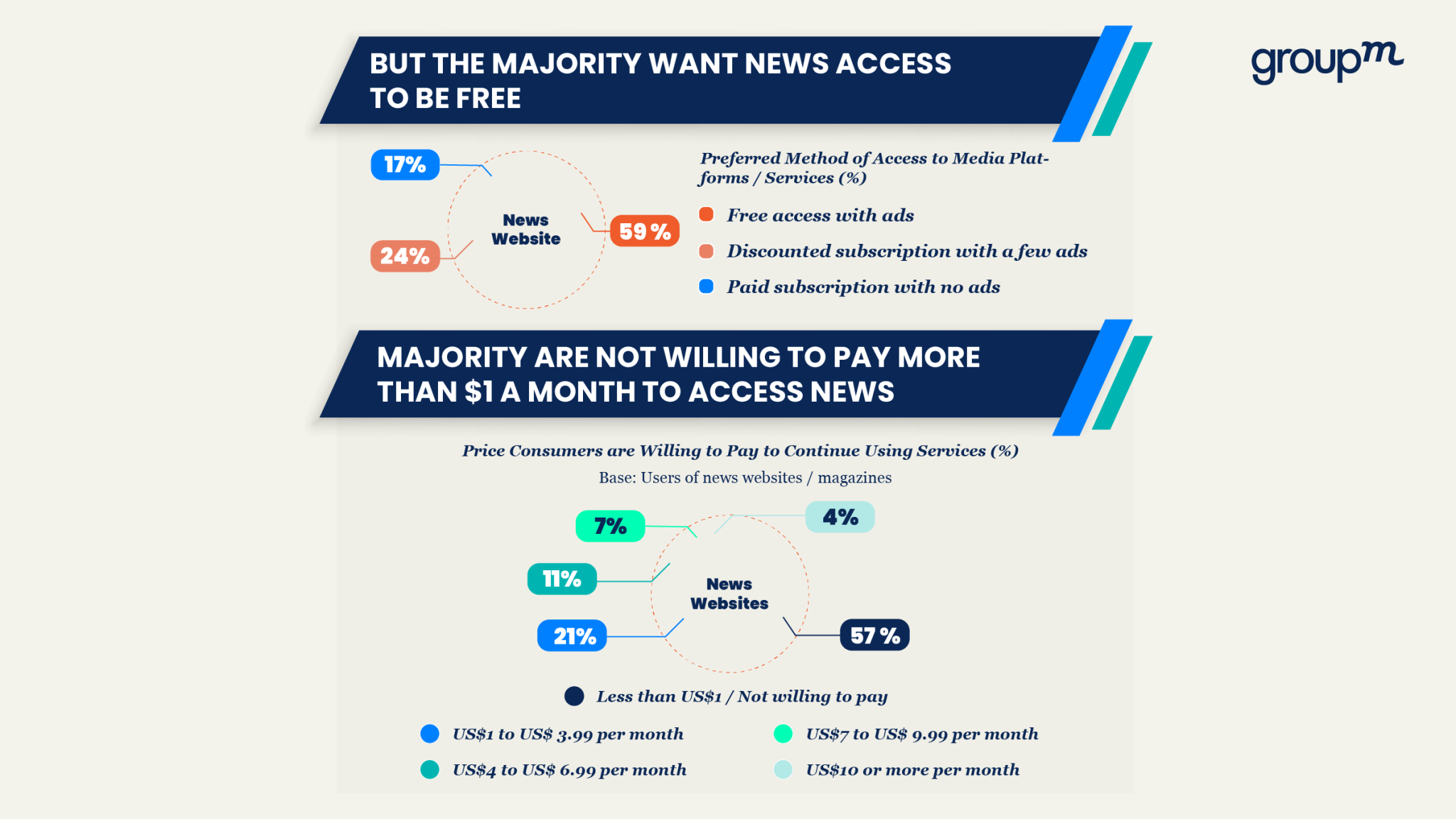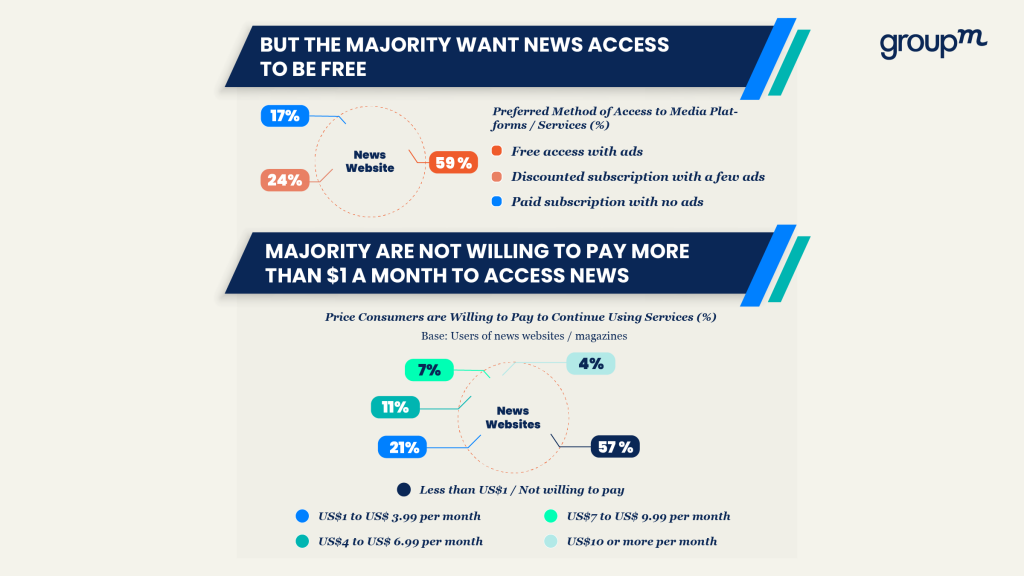 Focusing on newspapers, only 17% of respondents indicated they would prefer a paid service without any ads. When asked how much subscription one was willing to pay if advertising was removed or reduced, more than half (57%) were not willing to pay more than US$1 a month to access news publications.
Given that a subscription-only business model is insufficient to fund the long-term operations of a news organisation, it underscores the need for an ad-supported system to ensure the viability and quality of journalism.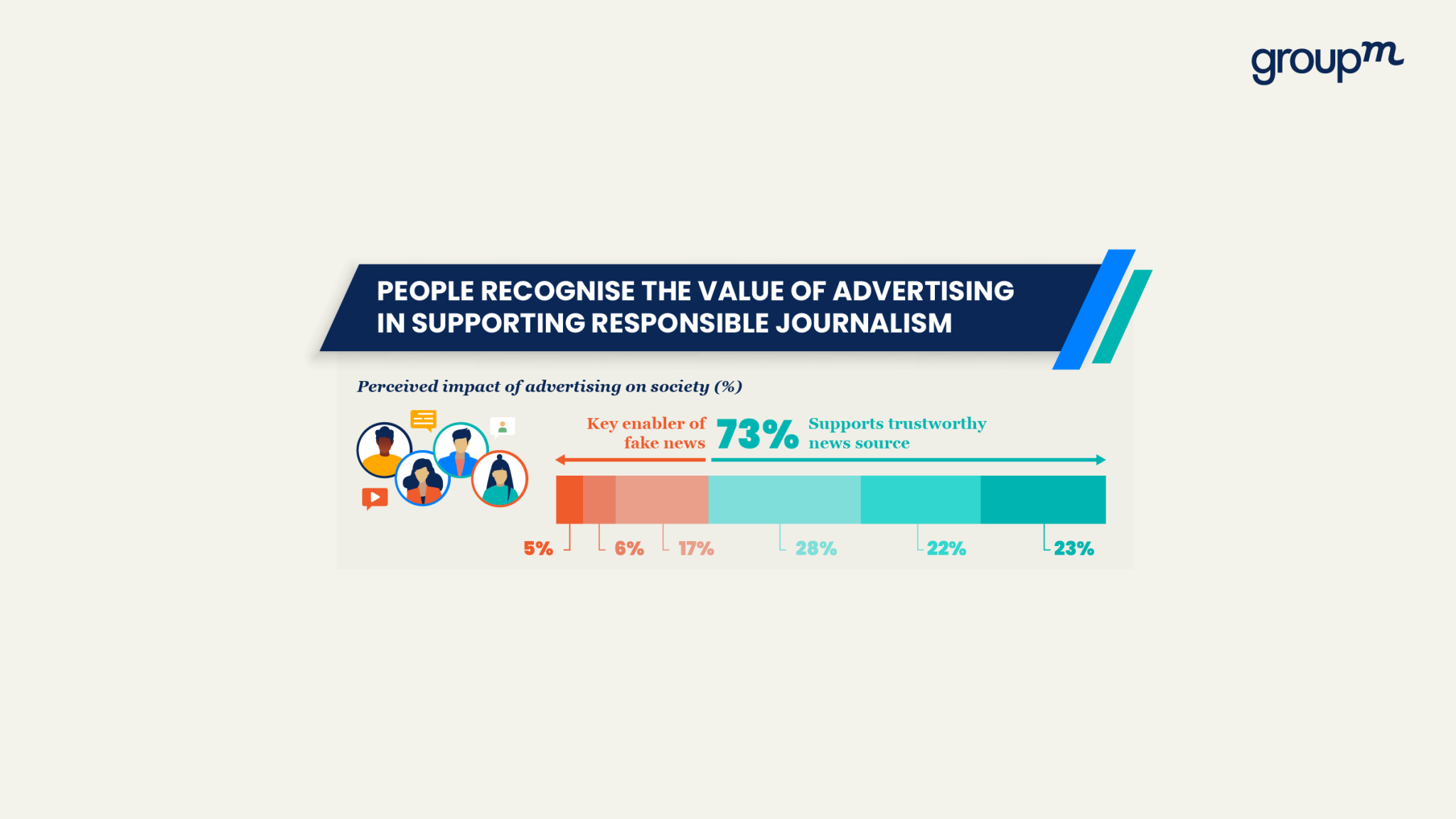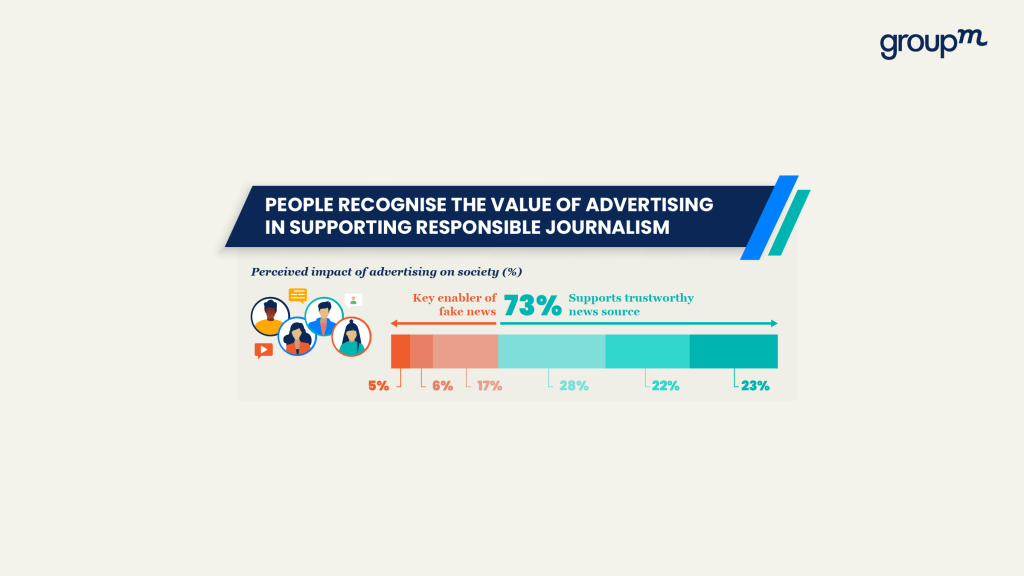 In the absence of quality control across the media supply chain, advertising can inadvertently support fake news. However, 73% of respondents see the greater value that advertising plays in supporting trustworthy news by funding responsible journalism.
Investing In Responsible Journalism
GroupM is launching a Back to News Initiative to help rebuild and fund credible news organisations. In APAC, the network is partnering Ads for News to offer advertisers access to a curated portfolio of 8,000 trusted local news websites from 30 countries.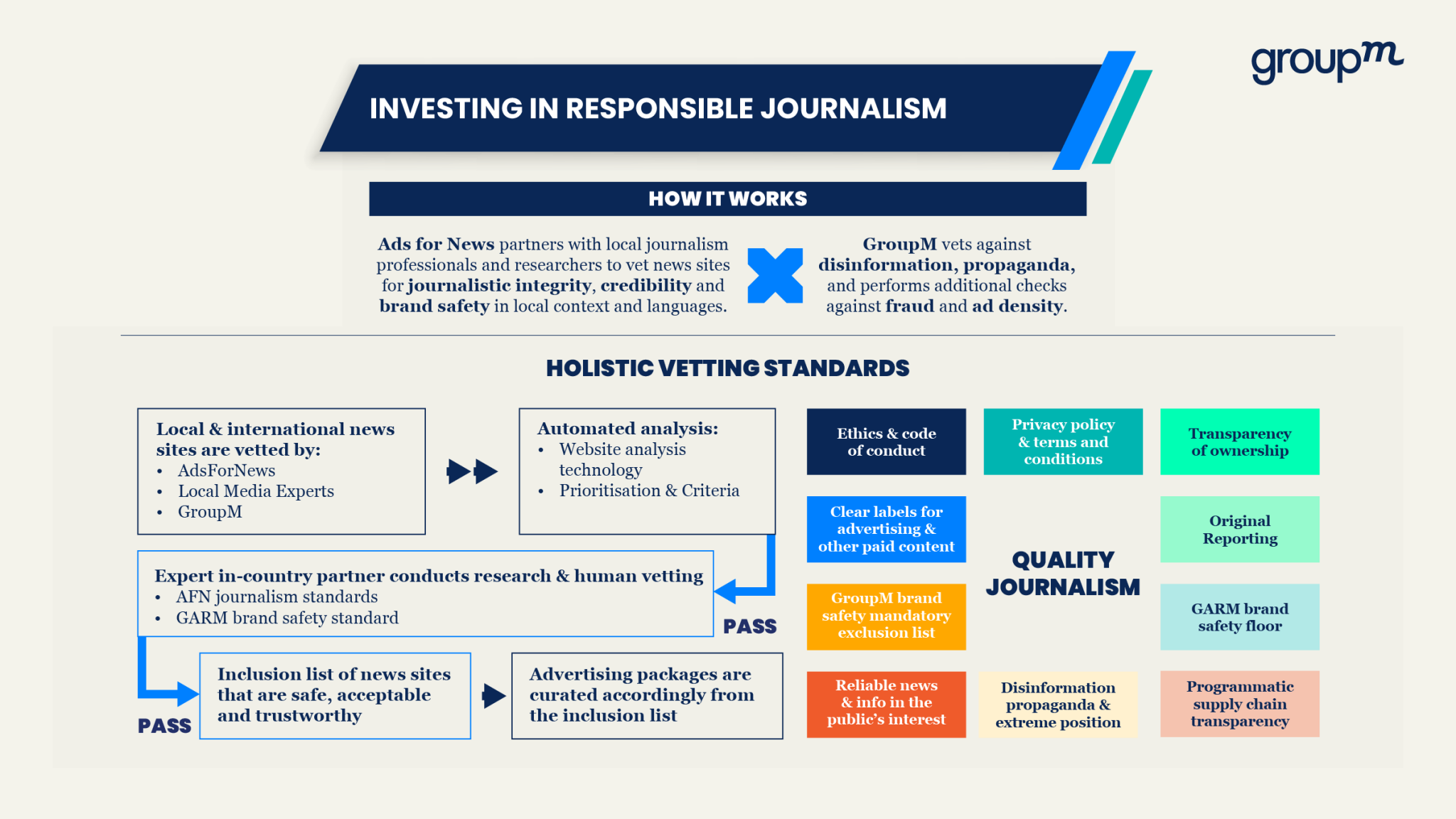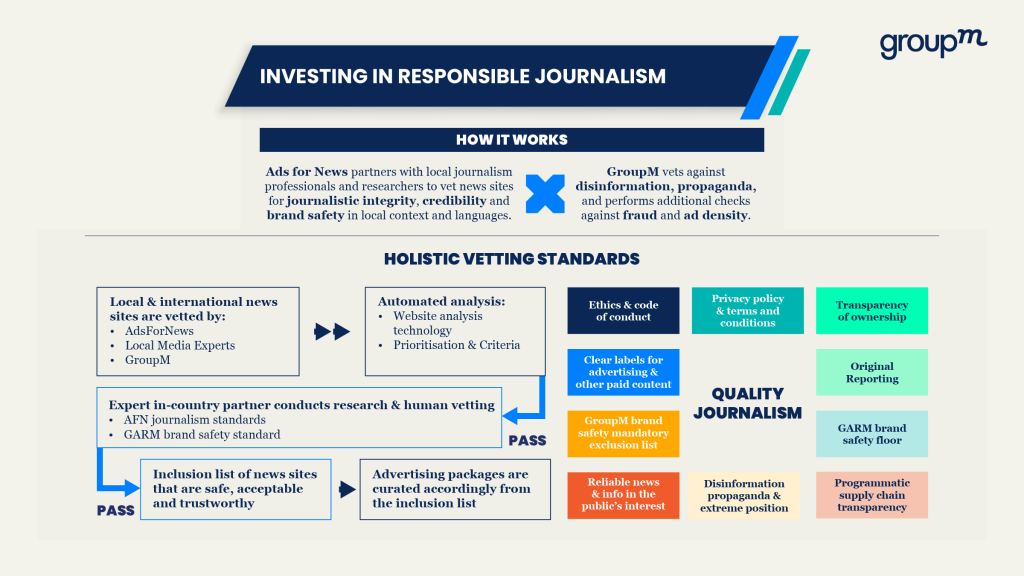 By channeling incremental advertising investment towards credible news outlets, GroupM is spearheading a back-to-news movement where responsible journalism can thrive, while impeding the growth of harmful platforms that spread fake news.
In GroupM's conversations with many of the world's biggest brands, marketers are supportive of high-quality news media as they appreciate its importance in shaping mindsets, influencing cultural behaviour, and driving effective advertising.
In a post-Covid era, society's increased social and cultural consciousness will continue to influence the media buy strategy of many leading brands. Advertisers that invest strategically in the right news vehicles are helping to rebuild credible news sites and publication ecosystems, while countering the growth of harmful platforms that spread misinformation.
In a carefully curated and trustworthy news environment, advertisers will enjoy brand safety while engaging with captive audiences.
Going back to news is good for business.
About Consumer Eye
Consumer Eye is GroupM's proprietary research that seeks to uncover insights related to the impact of media-related technologies on brands and society. The 2022 edition of Consumer Eye surveyed an online population of 27,629 consumers aged 18 and above across 23 global markets on a variety of topics including: Home Entertainment, e-Commerce, Metaverse, Data & Identity as well as Responsible Advertising.
For more information about Consumer Eye, please contact [email protected].
GroupM is the world's leading media investment company with a mission to create a new era of media where advertising works better for people. Responsible for more than $60 billion in annual media investment, according to COMvergence, the company innovates, differentiates, and generates sustained value for clients wherever they do business. GroupM's portfolio includes agencies Mindshare, Wavemaker, EssenceMediacom and mSix&Partners, as well as Choreograph (Data & Technology), GroupM Nexus (Cross-Channel Performance & Activation), and GroupM Investment. Discover more at www.groupm.com.