Life After Lockdown
Singapore, 8 July 2020 – GroupM, the media investment group of WPP, released its latest white paper on what 'life after lockdown' may hold in store for brands across Southeast Asia. Issued in two parts, part one was released today with part two due to be released on 15 July 2020.
Combining consumer research data from 2019 with Shopalyst data comparing immediately before and during the pandemic, the analysis explores changing consumer habits across six markets and the impact this is having on category and brand growth.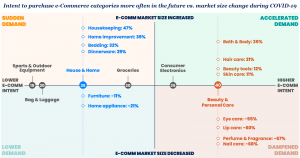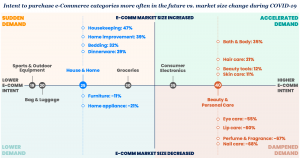 Some of the key findings include:
COVID-19 has not had a uniform impact on e-Commerce and brands need to adjust their strategies accordingly
Investing in on-platform advertising has helped brands maintain and grow sales during the COVID-19 period
There are untapped sales opportunities in pivoting online marketing from a 'mega-day' only approach to also support 'always-on'
Research findings validate the importance of an integrated approach to off and online marketing activities
GroupM's agencies – Mindshare, MediaCom, Wavemaker, Essence and m/SIX – will leverage the analysis that was developed by GroupM Commerce, in order to provide their clients with recommendations on commerce roadmaps for navigating the coming months.
Jon Thurlow, GroupM's Asia Pacific COO, who also leads GroupM Commerce commented, "The next few months will be unlikely to show a linear path to growth, and whilst we see differences across categories, broadly speaking we see a rebound in sales for brands over the first couple of months of post lockdown, reflecting several months of pent-up demand. However, the real challenge is in creating a longer term, sustainable omni-channel approach. The level of intricacy in marketing integration is about to become a lot more complex for many brand owners as the balance between offline and online commerce becomes more critical to profitable outcomes."
The GroupM Commerce offering delivers an end-to-end solution spanning strategic consultancy, optimizing on- and off-platform marketing investments (search and display), traffic generation, social, affiliate marketing, KOL, livestream, on-platform traffic management, content and creative development, online store management, analytics and reporting, and e-Commerce operations.
About GroupM
GroupM is the world's leading media investment company responsible for more than $50B in annual media investment through agencies Mindshare, MediaCom, Wavemaker, Essence and m/SIX, as well as the outcomes-driven programmatic audience company, Xaxis. GroupM's portfolio includes Data & Technology, Investment and Services, all united in vision to shape the next era of media where advertising works better for people. By leveraging all the benefits of scale, the company innovates, differentiates and generates sustained value for our clients wherever they do business.
Discover more about GroupM at www.groupm.com.
Follow @GroupMWorldwide on Twitter.
Follow GroupM on LinkedIn – https://www.linkedin.com/company/groupm.
Media Contact
Jon Thurlow
COO, GroupM Asia Pacific
[email protected]