COMvergence: Global New Business Barometer for Q1 2020 Reveals Top Media Agency Winners
FRANCE – MAY 18, 2020 – According to the latest global media agency study "New Business Barometer Q1 2020" published by COMvergence, PHD (owned by Omnicom/OMG) came out as the top global media agency in new business results with a Total New Business Value of $440M. Notable wins include the $300M Diageo global account along with Casper and Lindt wins in the US. MediaCom holds the second spot mainly due to the global win of Hasbro as well as several significant wins in China. The third position is occupied by Wavemaker due to the retentions of Daimler in China and DoorDash in the US. Mindshare and Zenith complete the Top 5.
COMVERGENCE GLOBAL NEW BUSINESS RANKING – MEDIA AGENCIES

COMVERGENCE GLOBAL NEW BUSINESS RANKING – MEDIA GROUPS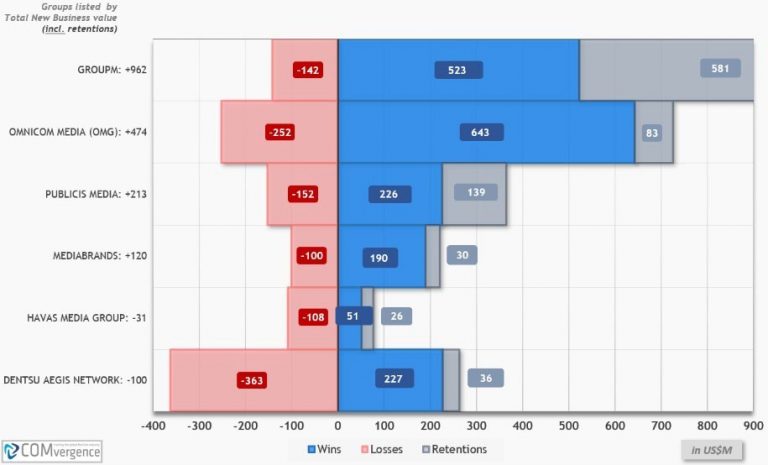 WPP's GroupM takes to the top position among the big six global media agency groups, scoring strong new business results across most regions, particularly in EMEA and APAC. The GroupM's three largest agency networks (MediaCom, Wavemaker, Mindshare) rank 2nd, 3rd, and 4th respectively.
OMGoccupies the 2nd place, and Publicis Media takes 3rd. Despite being ranked 4th (among the Big 6), Mediabrands has the least amount of billings loss during the first quarter.
In Q1 2020, COMvergence assessed 440+ media account moves and retentions across 45 countries totalling $2.9B (half the volume recorded in Q1 2019 which was $5.9B).
China and the US dominated the media pitch activity in Q1 in terms of reviewed spend ($1.5B together) and represents half of the total spend reviewed globally.
The average retention rate during the quarter was 39%, which is higher than previous years. Also, this rate must be carefully interpreted due to overall low volume of concluded pitches and the dominance of retentions in China (74%).
The five largest global/multi-country concluded reviews are: BBVA, Diageo, Emirates, Hasbro, and Intersnack, resulting in $665M. Local reviews represented $2.1B (or 74% of the total). This includes Tailored Brands ($102M) and DoorDash ($91M) in the US; Daimler ($220M), Shanghai GM ($139M), PepsiCo ($118M) and SAIC Volkswagen ($88M) in China.
Out of the total media spend reviewed in Q1 2020, only $140M in billings were assigned to independent agencies. This includes Madison Media ($73M) in India with the retention of Titan; Crossmedia ($13M) with the European win of Tommy Hilfiger and Mediaplus ($12M) with the European win of De'Longhi.
Sources
Account move information is derived from independent research which is then validated by the agencies (all cooperating with COMvergence). Ad spend figures (deflated in most markets) are sourced from Kantar and Nielsen Media data where a strategic partnership with COMvergence exists.
ABOUT COMVERGENCE
COMvergence is the only independent and international research consultancy providing analysis and benchmarking studies of the advertising and media firms owned by the global marketing services groups, leading independent agencies, and management & IT consulting firms. Using quantitative and qualitative measurement metrics, COMvergence provides high- quality reference data, guidance and support for MarCom professionals across all levels and titles. Through our quarterly reports and continuously updated databases, COMvergence keeps members informed of key 1) Agency/advertiser relationships, and new business activity; 2) Media agency billings and market shares; 3) MarCom agency acquisitions (holding companies vs. management & IT consulting firms); 4) Agency leadership and talent flows. COMvergence partners include the American Association of Advertising Agencies (4A's), World Federation of Advertisers (WFA), Nielsen and Kantar Media.