GroupM Expands Media Inclusion Initiative To Include Five Percent Pledge For Black, Hispanic, AAPI, & LGBTQ+ Communities
In first 18 months, Media Inclusion Initiative has outpaced the industry with triple-digit increase in client investments in Black-owned media  
Cynthia Morgan Jenkins hired as head of supplier diversity to develop relationships with diverse owned/focused media and content partners  

New York (March 9, 2022) — GroupM, WPP's media investment group, today announced the expansion of its Media Inclusion Initiative (MII) to include a 5% pledge to allocate spend across Black, Hispanic, AAPI and LGBTQ+ owned and/or focused media.
The pledge invites brands to invest at least five percent of total annual media budgets across publishers that create, curate, and distribute content specifically for diverse audiences. 
"As the largest media investment company in the world, we have a responsibility to accelerate growth through the next era of media," said Kirk McDonald, CEO, GroupM North America. "That means making our industry more inclusive and equitable for all publishers. As well as, sharing brands' products and services with audiences that are representative of the changing face of America in service of growing their businesses."
In its first 18 months, MII—an integrated strategy for directing investment in and creating opportunities for diverse media companies and content creators—has outpaced the industry with a triple-digit increase in client investments in Black-owned media according to SMI data. 
"We've seen increasing client support for our Media Inclusion Initiative since we first launched in May 2021," said Matt Sweeney, chief investment officer GroupM US. "By providing an intentional way for brands to support diverse-owned media we can ensure our clients are providing a platform for diverse voices, ensuring inclusive representation and reaching broader audiences."  
Additionally, the group has hired Cynthia Morgan Jenkins as head of supplier diversity to develop and nurture relationships with diverse-owned media and content partners. Morgan will lead the integration of those partners into GroupM client strategies. She reports to Gonzalo del Fa, president, GroupM Multicultural.
"The Media Inclusion Initiative helps us, and our clients achieve greater equity while supporting the voices, content and editorial written for and by these communities and creating a more diverse media marketplace in the process," said del Fa. "Not only have we doubled the number of clients participating in the Media Inclusion Initiative, but we're also seeing those brands increase their commitments."
MII reinforces GroupM's "Responsible Investment" buying framework. The framework's five focus areas—Brand Safety, Data Ethics, DE&I, Responsible Journalism and Sustainability—signals a new media era where scale serves clients through a commitment to make advertising work better for people.
Additionally, in July 2020, GroupM launched the GroupM Multicultural Marketplace, which is currently live with 300 publishers, representing a comprehensive – and growing – list of Black-and Hispanic-owned and/or focused publishers that create, curate, and distribute content specifically for these audiences.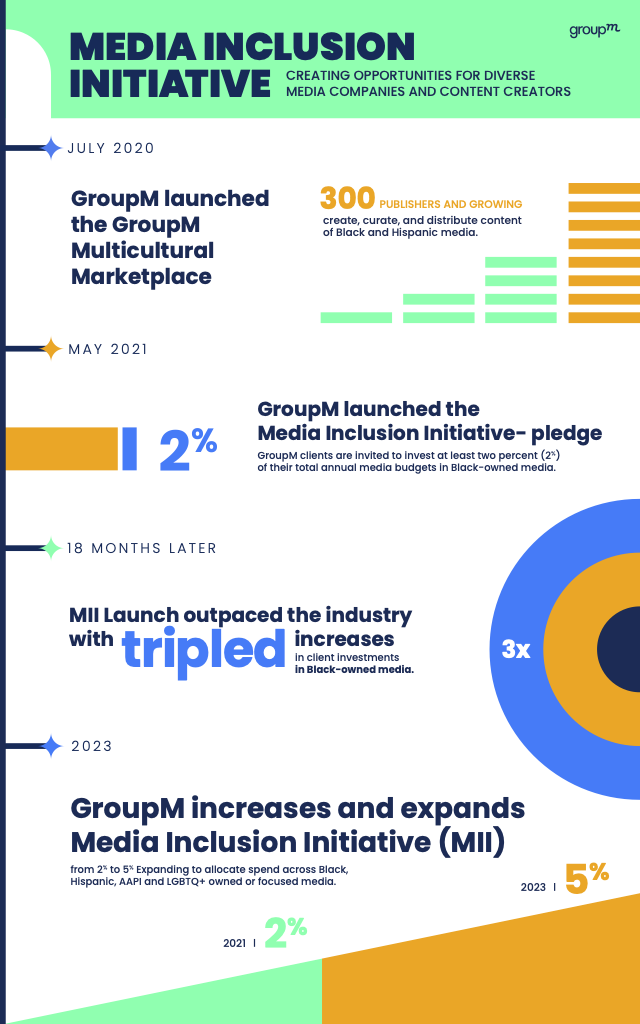 Quotes for attribution:
Alfred C. Liggins, Chief Executive Officer, Urban One Inc.: "The expansion of GroupM's Media Inclusion Initiative is a monumental demonstration of their continued commitment to support diverse media. As the largest Black-owned multimedia company and long-time partner, I thank and honor GroupM for outpacing and leading the industry in Black-owned media investment increases.  This ensures that historically underrepresented media companies and creators receive their fair share of advertising dollars. This push to pair national brands with Black-owned media creates a more equitable marketplace while driving business growth for the brands involved – it's a win-win for all parties, most importantly our clients and the communities that we serve."
Earl "Butch" Graves Jr., President & Chief Executive Officer, Black Enterprise: "The GroupM Media Inclusion Initiative that began 18 months ago has made an enormous impact in Black owned media. This economic commitment is perhaps the first time that financial targets have been set, and more importantly, accountability has been both transparent and measured. The direct investment in our media companies, and the opportunity to present unique ideas to GroupM and their clients will stimulate growth in Black owned media and create a blueprint for Corporate America in capitalizing on the bottom-line potential of the African American market."
Detavio Samuels, Chief Executive Officer, REVOLT: "GroupM has shown a commitment to supporting Black-owned media and we've seen leading brands within GroupM step up and partner with REVOLT to do impactful work over the past two years," said Detavio Samuels. "We believe GroupM's latest initiative will encourage more brands to place bigger bets on Black-owned media companies and this new initiative is a step toward shifting the paradigm moving forward."
Travis Montaque, Group Black's CEO, and Co-Founder: "GroupM has and continues to show exemplary leadership and ingenuity in driving more inclusive practices in media buying. The decision to expand their Media Inclusion Initiative is a step in the right direction towards accelerating progress for diverse media. As the largest collective of Black-owned media, we have been immensely grateful for our partnership with GroupM and their continued support. When organizations like GroupM lead the charge on initiatives like this, it pushes everyone forward."
ABOUT GROUPM   
GroupM is the world's leading media investment company with a mission to create a new era of media where advertising works better for people. Responsible for more than $60 billion in annual media investment, according to COMvergence, the company innovates, differentiates, and generates sustained value for clients wherever they do business. GroupM's portfolio includes agencies Mindshare, Wavemaker, EssenceMediacom and mSix&Partners, as well as Choreograph (Data & Technology), GroupM Nexus (Cross-Channel Performance & Activation), and GroupM Investment. Discover more at www.groupm.com.