Platform-Agency Partnerships Taking CTV Ads Forward: GroupM's Bacher
The COVID-19 pandemic may have winded the economy, the advertising business and personal lives around the world.
But, for over-the-top (OTT) and connected TV (CTV), lockdown looks like being a catalyst.
Not only have OTT services seen a big uptick in consumption during the period, but the whole ecosystem appears to have come together to improve the tools available for advertising placement and monetization.
In this video interview with Beet.TV, Esra Bacher, Managing Partner and Programmatic Investment Lead at GroupM, the world's biggest media-buying agency, says the group has lobbied ad-tech platforms for technology improvements – and has emerged with a richer toolset.
Growth during pandemic
"CTV has been going through a very interesting time especially during the current events caused by COVID-19," she says.
"I believe that the current conditions are going to be quite favourable in shaping the future of TV.
"We have been very vocal about our needs and challenges when it comes to programmatic CTV activation.
"During this time, we have seen some great enhancements that are being offered by both the SSPs, DSPs and the publishers. They have listened to our concerns and have built some tools, some products that are facilitating the programmatic activation of CTV media."
New tricks
Bacher says recent platform improvements include:
reach and frequency reporting
audience-based inventory
enriched data partnerships with deeper audience insights
automatic content recognition (ACR) integrations for true understanding of viewer behaviour
Still, Bacher says an "ideal" is for them to ingest TV schedules so that ad buyers like GroupM can have a true insight into audiences' real behavior.
Publishers 'embrace' programmatic TV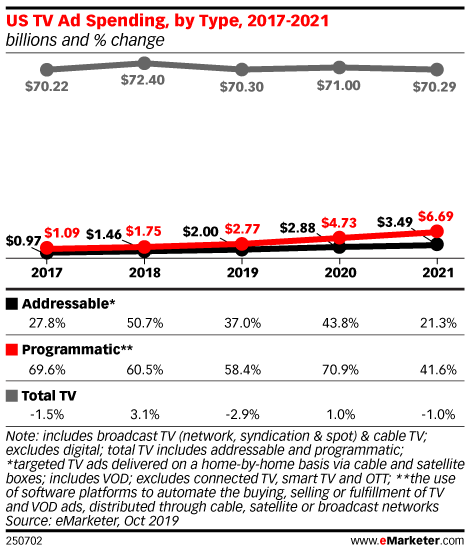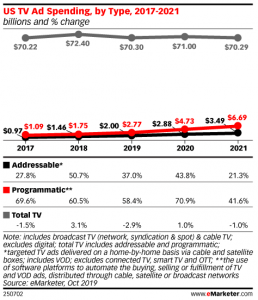 EMarketer in November estimated programmatic TV ad spending will reach $6.69 billion in the US by 2021, more than doubling from $2.77 billion. That makes it a still-small but fast-growing part of the overall TV ad spending pie.
GroupM's Bacher says the tech improvements from SSPs and DSPs are encouraging media owners to make more inventory available to buy through programmatic mechanisms, increasing the scale available to buyers.
Together with the recent explosion in actual OTT TV consumption during the pandemic, it all appears to add up to a vastly increased opportunity.
But Bacher says she wants to be able to deduplicate – or distinguish between – TV viewing carried out through OTT and that carried out through linear, in order to better understand cause and effect.
The fragmentation of viewing options and diversity of ad placement requirements will continue to pose a problem, Bacher says. Next up, she would like to see "standardization" in the market.
Watch Esra's segment below or by visiting Beet.TV.